We are featuring some of our Hawaii weddings on the beach
of Oahu from Waikiki Honolulu to Est Coast of the island to the
far distance of the North Shore coastline
Pink hibiscus with bright hot pink Stargazers lining the aisle way fuchsia Lotus Flowers and birds of Paradise Hawaiian native florals ,
all lead up to the green palm aisway alter of love for their
Karissa + Brian's Oahu wedding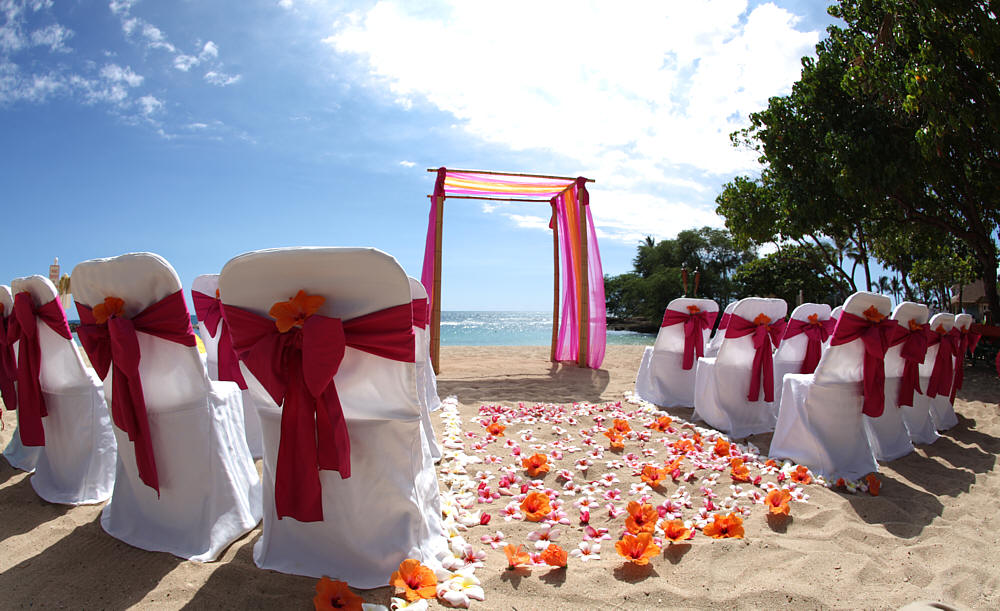 Vanessa + Chris Hawaii beach wedding
ceremony theme design of natural mountain
bamboo archway wrapped with see through organza material of
mango orange , pretty pastel pinks with vivid fuchsia , this theme made use of the local
Hawaiian tropical paradise flowers of Hibiscus and plumerias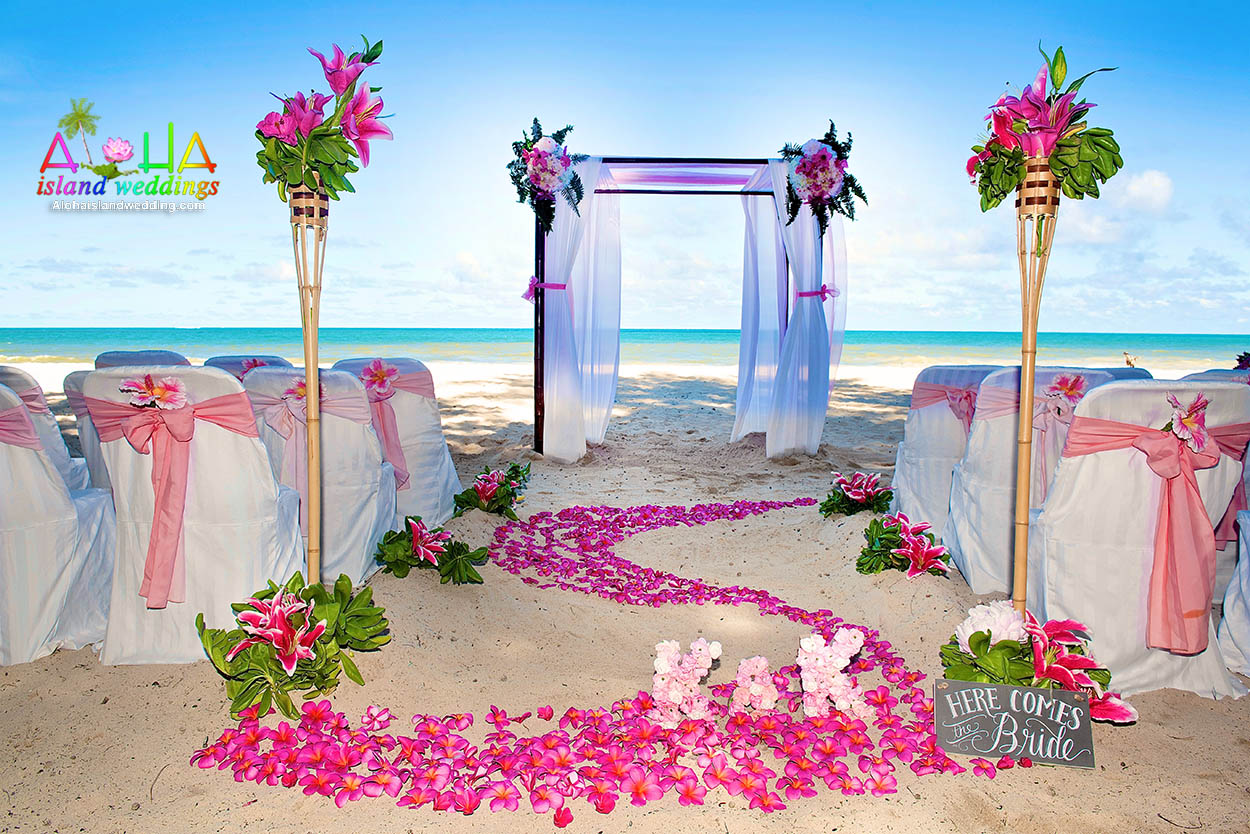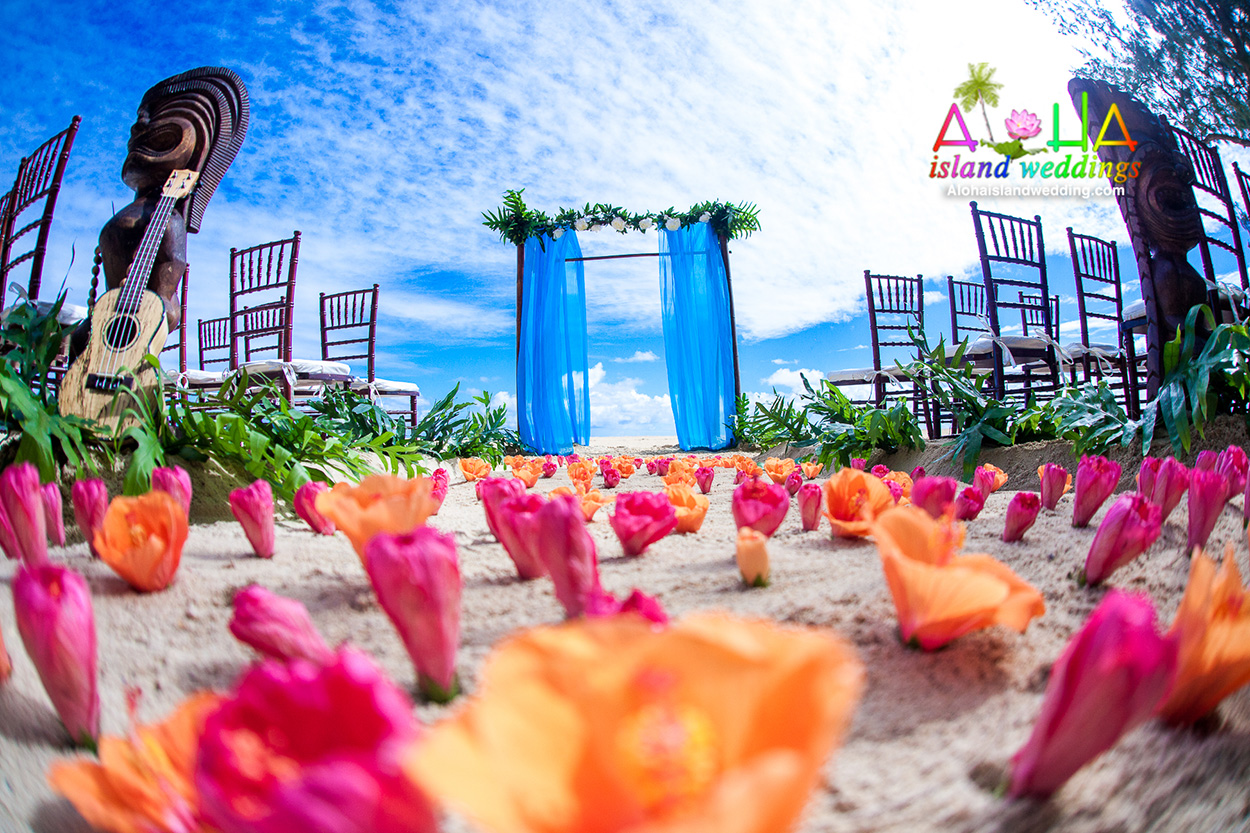 Hibiscus of orange and pink for Toshi and Suzanne's Walkway
Sky blue organza draped over the darkened mahogany bamboo beach archway , this couple loved the
bright Hawaiian floral's os orange / dark fuchsia hibiscus , The flowers opened up fully as the wedding finished in this
picture the flowers are still closed before the ceremony began . To create a Hawaiian elements in the design this wedding used
2 wooden tiki statues name Lono and Ku , symbols of peace and love and the other a symbol of wealth and prosperity.
they stood at the entrance of the railway e with Hawaiian mountain ferns with added greenery for the arrangement on the arch.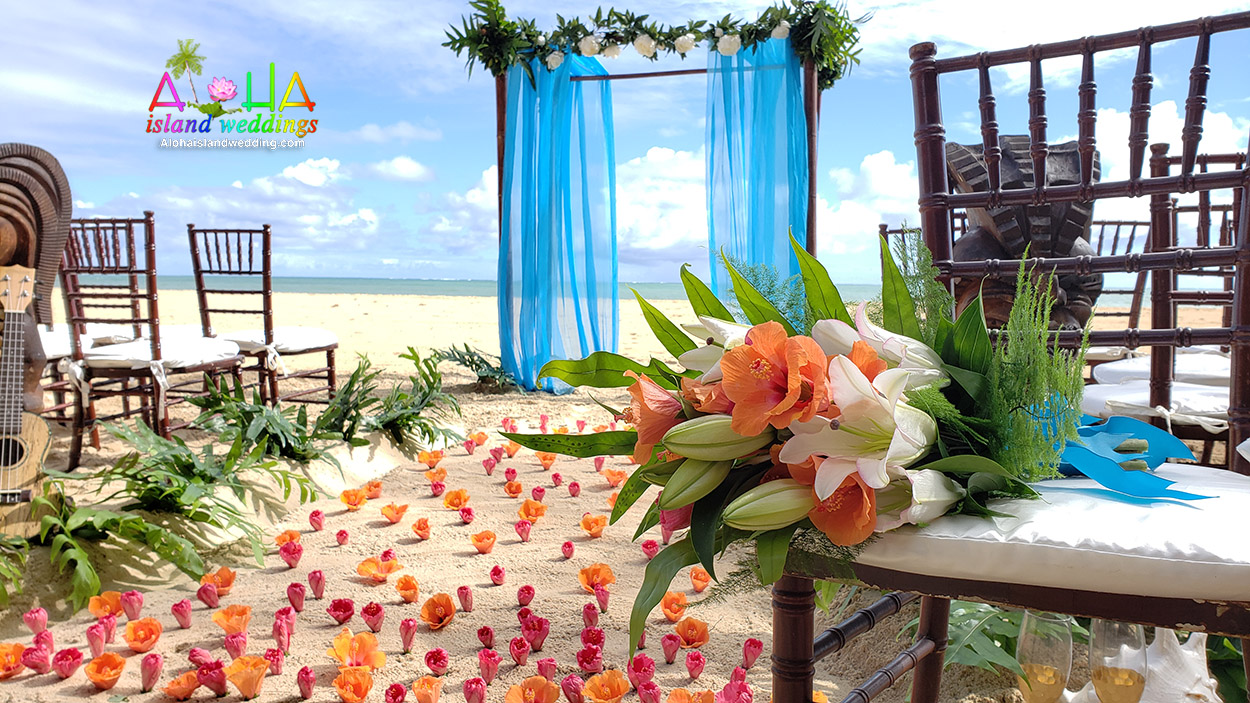 Dark wooden chiavari chairs with Hawaiian tiki men overlooking
the mahagony bamboo blue beach gazebo with white peonies dancing along the top of the arch.
Hawaiian floral bouquet with white casa blanca lilly's orange and pink hibiscus and mild fuchsia plumerias
lays on the chair awaiting for the bride to arrive.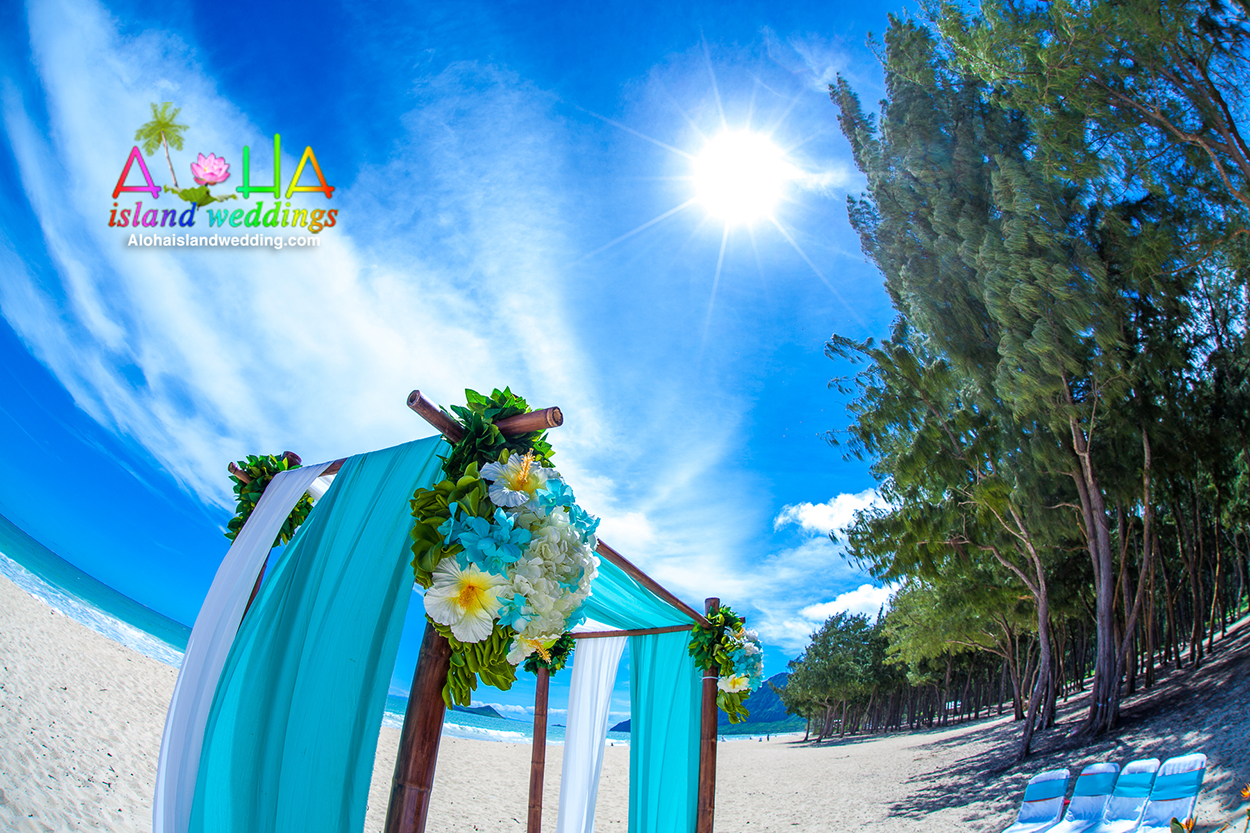 Adrienne and Cedrics design : Sun shinning down on this turquoise beach theme arch in Hawaii
with fern greenery wrapped around the bamboo arch , trees and the ko'olau mountain ranges for the east coast of the
island seen in the distanct in the background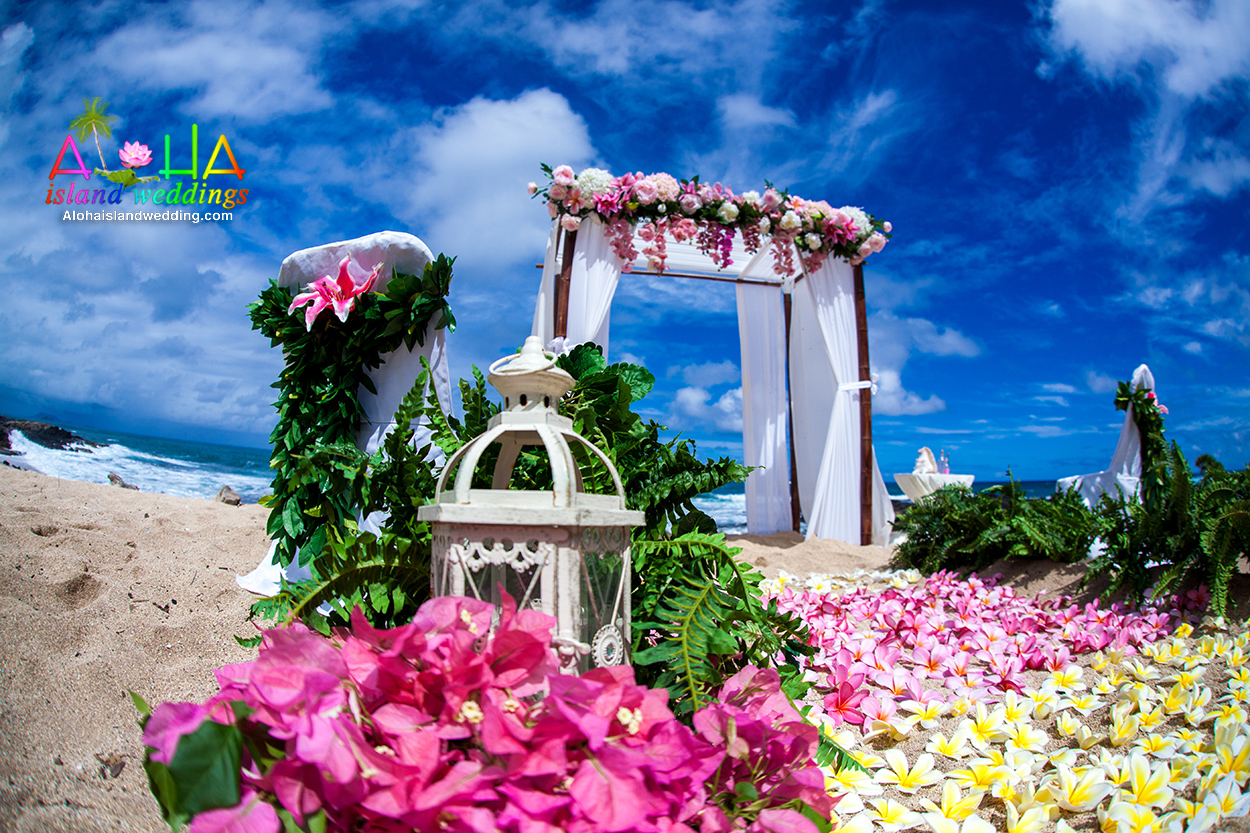 Carpet of color with yellow and pink plumerias on the sand with rustic bohemian candle holders
and bougainvilleas dot the entrance of the aisle way , dark greenery of kupu kupu Hawaiian fern moving down the
fair aisle way with a pink and dark pink theme archway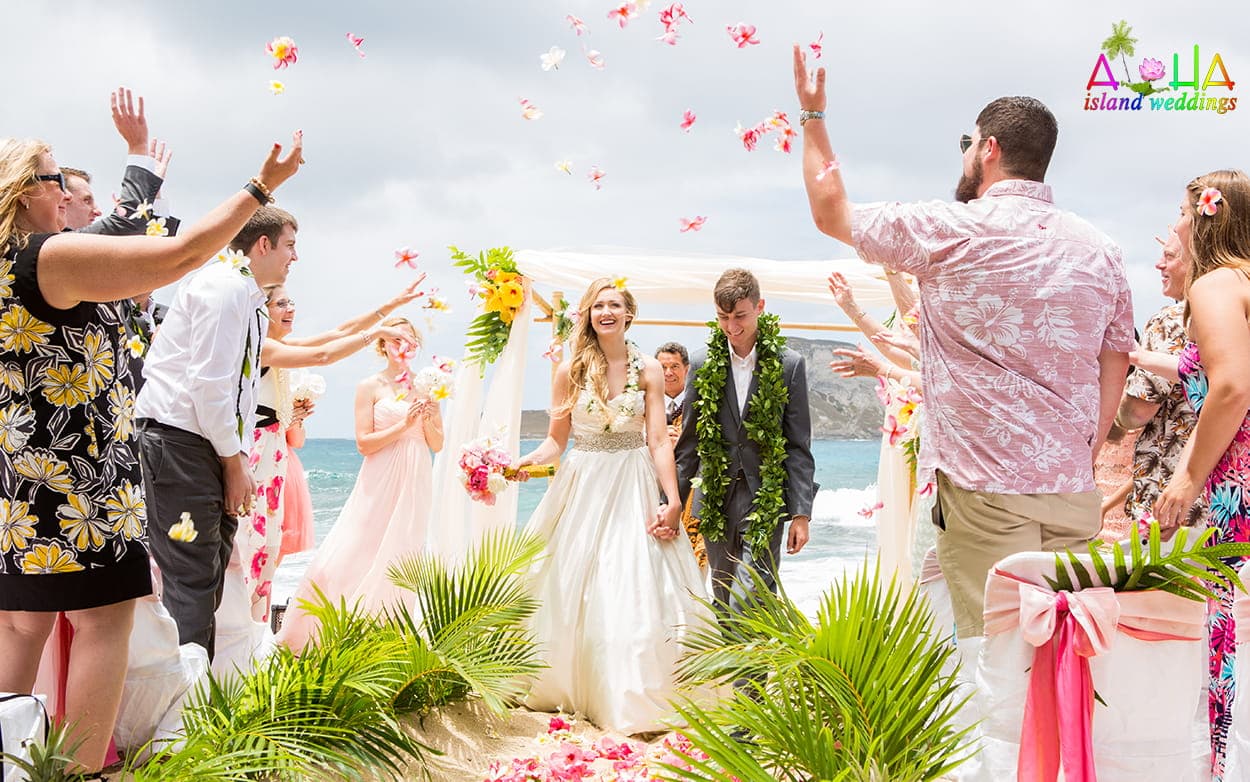 Jill & James Palms of Joy
friends and family throwing flowers after the Hawaii beach wedding ceremony of Jill and James on Oahu
Palms line the aisle way with light pink hibiscus and multi color flower plumerias beneath their feet .
white covered chairs tied with cotton candy pink and hot dark shades of pink tied around as a bow with the green fern set behind the bow
White ivory sheer organza material draped around the archway of natural Hawaiian bamboo , Floral flower arrangements
consists of local native indigenous flowers to Hawaii of yellow hibiscus,pink plumerias and Hawaiian fern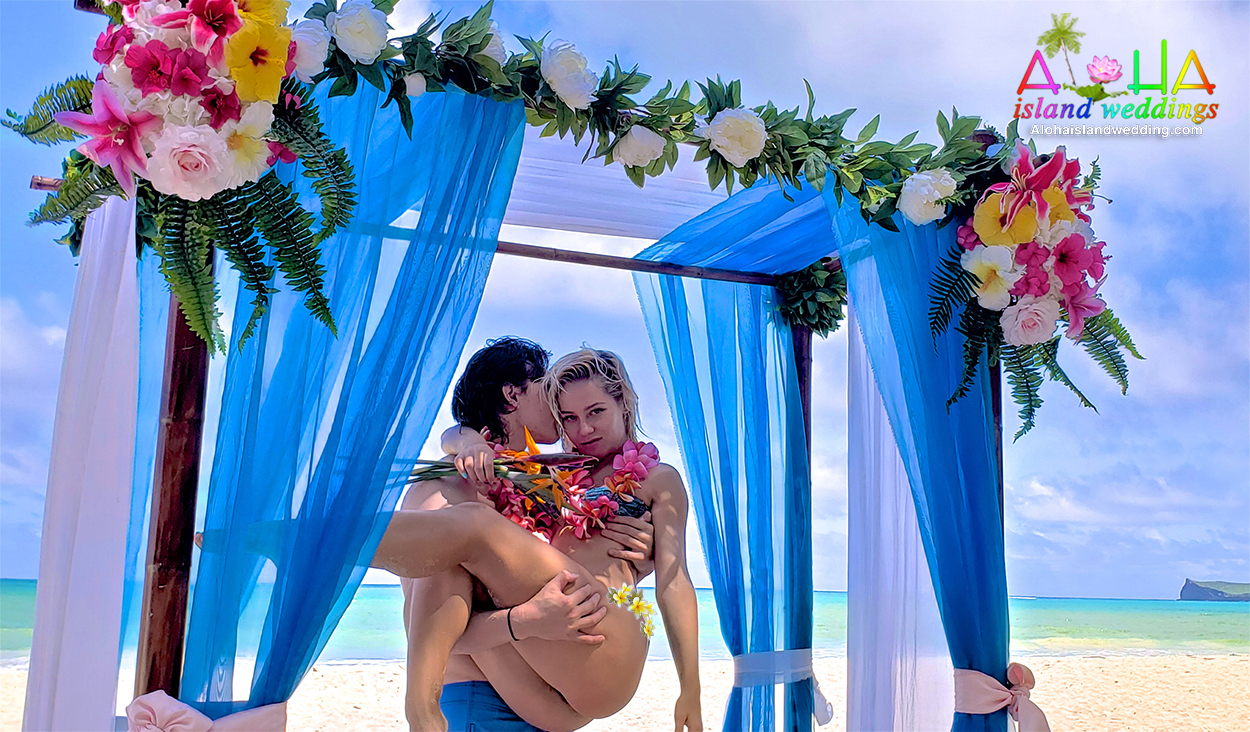 Our beach attire bride and groom having fun after their wedding taking photos
Baby Pink and ocean blue silk chiffon made in Thailand formed the color theme of this Hawaii beach archway ,
The Hawaiian floral arrangements for the corners of this beach gazebo used :
Bright sun yellows with eyes of dark pink & ruby hot pink hibiscus , pink merged with white stargazers ,
dark fuchsia plumerias also known as frangipani flower light baby pink roses with added white local grown
on the island of Kauai white hydrangeas with Hawaiian mountain indigenous ferns known as kupu kupu fern
used in many landscapes for gardens in Hawaii its scientific name is Nephrolepis cordifolia