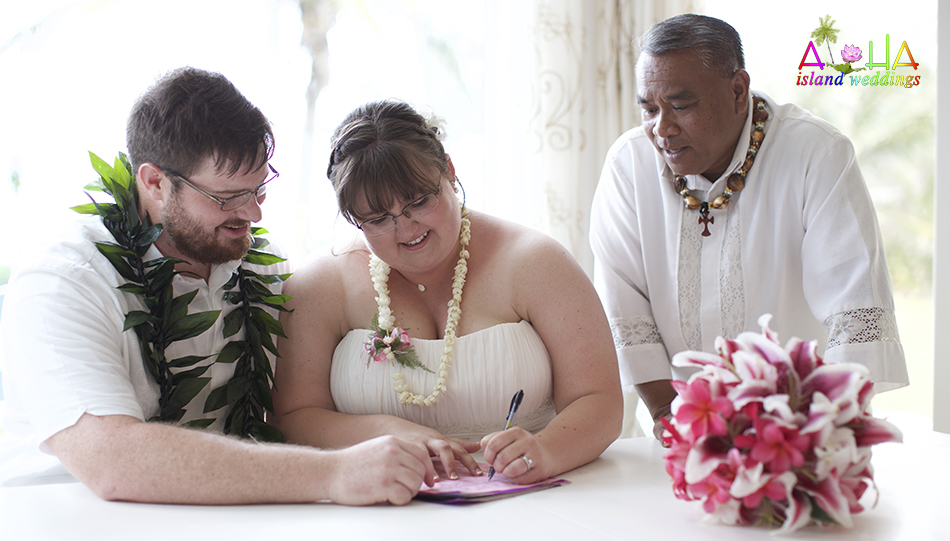 WE ARE HAPPY TO BE HERE CELEBRATING THE LOVING, JOYFUL, UNION OF TROY & LEIGH HATHAWAY November 2, 2012 Waimanalo, Oahu, Hawaii
THE OPENING PRAYER WE SAY MAHALO FOR ALL THE BLESSINGS GIVEN TROY AND LEIGH. WE ACKNOWLEDGE YOU FOR BRINGING THEIR TWO HEARTS TOGETHER AND UNITING THEM AS ONE. WE ASK THAT YOU GUIDE THEM THROUGH ALL THAT LIFE BRINGS, WITH PEACE AND JOY. WE ARE ASKING FOR THE GREATEST BLESSINGS OF ALL, A LOVE THAT IS DEEP, RICH AND TRUE. WE LEIGH MAHALO FOR ALL THESE BLESSINGS AND THE MANY MORE THAT ARE TO COME.
TROY AND LEIGH, THE WEAVE OF YOUR MARRIAGE TAPESTRY HAS GOLDEN THREADS OF LOVE, HOPE AND COMMITMENT. THE PROMISE IS TO EACH OTHER, TO BE PARTNERS THROUGH LIFE, EACH ONE HELPING THE OTHER TO BE STRONGER, WISER, TO BE THE BEST OF FRIENDS, TO FEEL FULFILLED AS INDIVIDUALS AND UNITED AS A LOVING, NURTURING FAMILY. LET THE VISION YOU NOW HOLD FOR ONE ANOTHER NEVER BE DIMMED BY THE DEMANDS OF THIS WORLD. REMEMBER THIS MOMENT, HOW YOU FEEL ABOUT EACH OTHER RIGHT NOW. TRUST ENOUGH TO SHARE YOUR MOST TENDER THOUGHTS AND FEELINGS. TOGETHER YOU CAN DO ANYTHING. THIS IS THE TRUTH.
CONSIDER THE MIRACLE OF THIS MOMENT, THE MILLIONS OF CHOICES WHICH GUIDED YOU HERE TO BE JOINED AS HUSBAND AND WIFE. TODAY, FOR ALL TO SEE, YOU ARE PERFORMING THE UTMOST ACT OF FAITH AND LOVE, COMMITTING TO EACH OTHER, TOTALLY. TROY & LEIGH ARE YOU READY TO BE JOINED IN HOLY MATRIMONY AS HUSBAND AND WIFE? RESPONSES: "YES, I AM." TROY, DO YOU TAKE LEIGH YOUR WEDDED WIFE, TO BE HER HUSBAND, PARTNER AND BEST FRIEND, TO LOVE, HONOR AND CHERISH HER IN ALL YOUR DAYS TOGETHER? RESPONSE: "YES, I DO." LEIGH, DO YOU TAKE TROY TO BE YOUR WEDDED HUSBAND, TO BE HIS WIFE, PARTNER AND BEST FRIEND, TO LOVE, HONOR AND CHERISH HIM IN ALL YOUR DAYS TOGETHER? RESPONSE: "YES, I DO." EXCHANGING RINGS: THESE CIRCLES OF PRECIOUS METAL ARE SYMBOLS OF YOUR LOVE, WITHOUT BEGINNING OR END. THEY ARE MATERIAL TOKEN WHICH REPRESENT YOUR LOVE AND DEVOTION TO ONE ANOTHER, MUTUALLY PLEDGED. YOU WILL WEAR THEM FROM THIS DAY FORWARD AS SYMBOLS OF YOUR DEVOTION TO EACH OTHER. TROY, PLACE THE RING ON LEIGH'S HAND AND REPEAT AFTER ME: "WITH LOVE IN MY HEART AND FOR ALL THE WORLD TO SEE, I HAVE CHOSEN YOU LEIGH, AS MY WIFE. I PROMISE TO SHARE MY LIFE OPENLY WITH YOU, TO SPEAK THE TRUTH TO YOU, TO RESPECT, HONOR AND TENDERLY CARE FOR YOU. IT IS MY HEART'S DESIRE TO LIVE WITH YOU THROUGH ALL THE CHANGES OF OUR LIVES. I LOVE YOU AND WANT YOU, AS MY WIFE, ALWAYS." TROY, this is a good place to offer your own special words to LEIGH. LEIGH, PLACE THE RING ON TROY'S HAND AND REPEAT AFTER ME: "WITH LOVE IN MY HEART AND FOR ALL THE WORLD TO SEE, I HAVE CHOSEN YOU TROY, AS MY HUSBAND. I PROMISE TO SHARE MY LIFE OPENLY WITH YOU, TO SPEAK THE TRUTH TO YOU, TO RESPECT, HONOR AND TENDERLY CARE FOR YOU. IT IS MY HEART'S DESIRE TO LIVE WITH YOU THROUGH ALL THE CHANGES OF OUR LIVES. I LOVE YOU AND WANT YOU, AS MY HUSBAND, ALWAYS." LEIGH, this is a good place to offer your own special words to TROY. TROY & LEIGH, YOU HAVE COME TOGETHER FOR THIS HOLY AND JOYFUL CELEBRATION, TO EXCHANGE YOUR VOWS AND BLESS THESE RINGS BEFORE GOD AND THESE WITNESSES. BECAUSE YOU HAVE PLANNED YOUR MARRIAGE AND YOUR HOME IN THE PUREST FAITH, YOU COME TO THIS MOMENT WITH ALL HONOR AND INTEGRITY. THEREFORE, BY THE AUTHORITY OF OUR LOVING CREATOR AND THE STATE OF HAWAII, I NOW PRONOUNCE YOU PARTNERS IN LIFE, HUSBAND AND WIFE. IT IS NOW MY PLEASURE TO INTRODUCE TO YOU AND TO OUR BEAUTIFUL WORLD MR. & MRS. TROY & LEIGH HATHAWAY